Moving is an extremely stressful process for consumers. Besides worrying about the significant change in their life situation, consumers are also anxious about their experience with the moving company they choose.
The two most common concerns that consumers have when selecting a moving company are:
Reliability - Consumers want to be sure that the moving company they choose is dependable and will provide high-quality service without any unexpected issues or delays.
Hidden costs - Consumers may also be apprehensive about being charged hidden costs or unexpected fees when the moving trucks show up to load their items. This uncertainty can cause concern and stress about the total cost of the move.
To solve these problems, Yembo invented the pre-move Visual Inventory.
What is the Yembo Visual Inventory?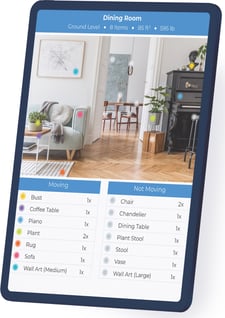 Most pre-move surveys generate moving inventories that look like an Excel document – displaying a single list of items that you plan to move. The Yembo Visual Inventory upgrades the pre-move inventory sheet by providing a room-by-room, color-coded inventory with actual pictures from the customers' videos. Yembo's AI-powered virtual surveys create these visual aids automatically – watching your customer's video and pulling out the key images from the video.
How to Enhance Your Pre-Move Inventory Sheets
Here is how the Yembo Visual Inventory helps improve your pre-move inventory sheets and upgrades the move process:
You can give consumers peace of mind by showing them what items you'll be moving and not moving through pictures of actual items that are color-coded.
You can ensure the movers provide an accurate pre-move estimate of the weight.
You provide the consumer with transparency in pricing by showing them what is included in the cost that was quoted.
You can make sure the movers have captured information about items that need special care.
You can solve for exceptions during the virtual survey process, at a time when the consumer is less stressed, rather than rushing to make changes when the crew shows up on move day. That helps you avoid move day blow-ups when tension and tempers are running high.
By documenting any pre-existing damage visually, in pictures,, you can help both parties during claim time.
You can share the Visual Inventory with the driver and crew, who can pre-plan move day logistics. This helps avoid sending the wrong sized truck or the wrong sized crew – improving efficiency for both the current move and all moves scheduled for the day or week.
The Yembo Visual Inventory creates transparency. Transparency creates trust. Establishing trust at these different stages in the move process reduces stress and improves customer experience.